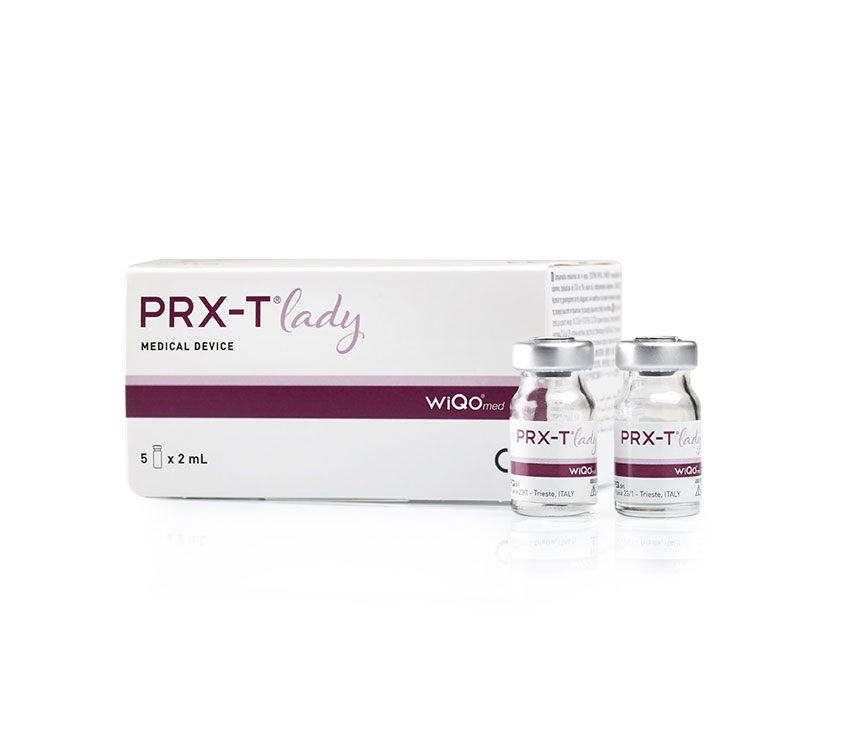 Injectable treatments, minimally invasive lifting techniques, to treat wrinkles and sagging. High quality aesthetic medicine products.
The innovation of this medical preparation, for toning and depigmentation of the skin of the sensitive area, lies in its composition: hydrogen peroxide, trichloroacetic acid (33%) and kochic acid (5%).
Specially designed for a youthful appearance of the sensitive area.
Activation
Application of PRX-T LADY with a specific massage technique in the treatment area: external sensitive area, armpits, nipple, area around the anus. The unique formula stimulates the skin's natural regeneration process, without affecting the epidermis.
Restoration
WiQo's RESTORING CREAM is specially designed for the sensitive area. The high concentration of active ingredients such as extracts from calendula, chamomile, aloe vera, xanthophyll, carnosine and vitamin E, protect the skin and fight dryness.
Complete the treatment and maintain the result.
Combine the treatment with WiQoLIGHTENING SERUM FOR EXTERNAL AND DELICATE AREAS  for use at home.
Its composition contains ferulic acid, alpha-lipoic acid, aminoethylphosphonic acid, lactoferrin, niacinamide and dianexamic acid, active ingredients that continue and maintain the whitening effect of the treatment.
Contains: 5 x 4ml 130g
Η νέα αισθητική θεραπεία για την τόνωση και τον αποχρωματισμό της γυναικείας ευαίσθητης περιοχής. 
PRX-T Lady RESTORING CREAM της WiQo




Beauty is power; a smile is its sword!
Ask To Speak With
Our Product Specialists